Draco Malfoy

Full Name:
Draco Malfoy
Gender:
male
Birthday:
6/5/1982
Age:
 34
Blood:
Pureblood
Birth Place:
England
Nationality:
English
Current Residence:
with his wife astoria

Family:
Mother:Narcissa Malfoy (née Black)
Father: Lucius Malfoy
Spouse: Astoria Malfoy (née Greengrass)
Children: Scorpius -living
Altaïr - living
Lyra - living
Cassiopeia - living
Madisson - deceased
History:
Draco was born in 1980 to Narcissa and Lucius Malfoy. He was spoilt, being the only thing that his parents truly cared about. His father's ideals rubbed off on him, and he entered Hogwarts with a distain for people who he believed to be inferior. He was sorted in to Slytherin house, where he made friends with other purebloods. During school, he also made enemies in Harry Potter and his friends, and had a relationship with Pansy Parkinson. Though during the war Harry Potter saved his life and gave him an eye opening life changing event. The first of a few. Which led to later his and harry potter having a good friendship and trust between them (canon and stated in epiloge book 7)
After the battle of Hogwarts, Draco's hatred toward other people died down to a simmer, but his ideals remained the same. Only not the way it was before thanks to Harry Potter. Until he and Astoria met and fell in love. At some point after leaving school her met and married Astoria Greengrass and they created a family of their own. This amongst other life changing events led to his becomng a greater person. Despite being an improved sexy badass he was also a better person and no longer one of the evil ones. Neither was his wife. He still slips up and says mudblood now and then but doesn't hold them as beneath him.
He is head of the department of mysteries and applied for the minister of magic position should it open up. The department of mysteries also holds the name...the Unspeakables as nobody really knows what goes on in there outside of the cover investigatiosn like Stonehedge. It could be equated to spy, undercover, the dirty doers or branches in the states such as cia, homeland security, etc but its all speculation. He and his wife Astoria have raised their children different than they were and he loves them all.

Appearance: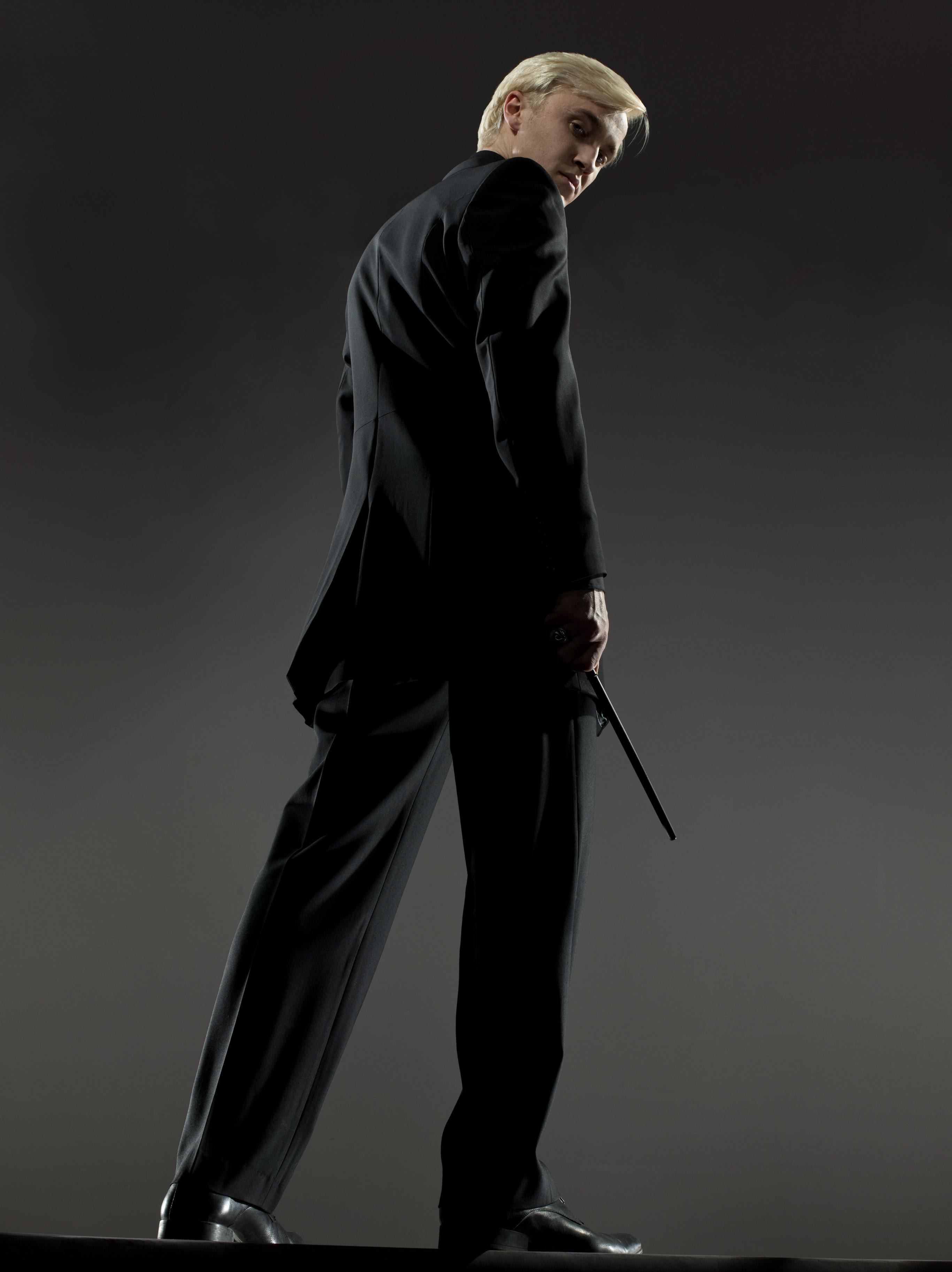 Personality:
Draco is a prideful man, who's pride often becomes arrogance. There are times when he acts rather childish, often towards Muggleborns and other 'inferior beings'. However, he has grown into a more well-rounded man than he was in his youth. He takes great pride in his work, and his pureblood family. He is a good father and loving husband.
He is intelligent and resourceful, being able to come up with solutions to problems quickly. Though narrowminded in his youth, he has become more accepting of other people than he once was. After the war in his 7th year and he was saved by Harry Potter the eye opening event started a cascading of changes that led to malfoy becoming a far better man then before. Lifechanging events led to him becoming a very great and good man. Still arrogant with a bit of a snarky or smartassed nature the man is no more evil than any of the harry potter friend cluster. He can be a bit more rule bending but he is a loving father and husband. A loyal and trusted friend to those he calls them. He is overall simply just a more improved badass than he was in school years.

Please provide an example of your role play. This example should be at least 100 words in length and can depict your character in any situation.